Karisma Hotels & Resorts - Save Up to $200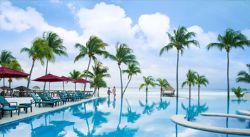 Karisma Hotels & Resorts — Save Up to $200
Create a private beachfront haven for two or excursion-filled adventure for the entire family with Karisma Hotels & Resorts. Whether you're enjoying the Karisma Gourmet Inclusive® Experience or the beautiful shores of Mexico and Jamaica, these properties make it easy to step away from everyday life, and step into once-in-a-lifetime moments.
Book flight and Karisma Hotels &
...

Delta Vacations gives you the benefits and flexibility to truly own your vacation experience with packages inspired by hundreds of destinations, thousands of accommodations and endless activities.
Benefits of booking with Delta Vacations:
Enjoy savings when you package your flights, hotels, car rentals and more to any of our 300+ destinations worldwide.
Relax and book your dream getaway with ease, knowing you're getting the best price with
...