Saint Lucia - Excellent Deals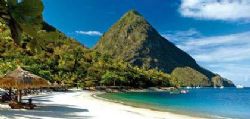 Saint Lucia - Excellent Deals
Celebrating 40 years of independence, Saint Lucia remains an alluring hideaway for romance and bold adventure. Visit now to experience everything the island has to offer, from the quaint villages of Anse-la-Raye to the rejuvenating mud baths around the Pitons and Sulphur Springs.
Book a flight and select resort package to take advantage of these special offers:
...

Delta Vacations gives you the benefits and flexibility to truly own your vacation experience with packages inspired by hundreds of destinations, thousands of accommodations and endless activities.
Benefits of booking with Delta Vacations:
Enjoy savings when you package your flights, hotels, car rentals and more to any of our 300+ destinations worldwide.
Relax and book your dream getaway with ease, knowing you're getting the best price with
...