Marriott International Resorts In The Caribbean - Up To $300 Off + More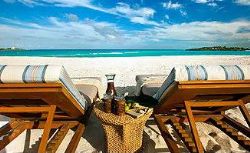 Marriott International Resorts In The Caribbean — Up To $300 Off + More
Thrill seekers: zip line through natural areas like El Yunque National Park in Puerto Rico, explore jagged volcanic peaks and ruins of gold mines in Aruba, dive among subterranean drop-offs in Grand Cayman, or go beyond. Vacation with Marriott International Resorts in the Caribbean, and make any adventure more exciting.
Book a flight and hotel package to save up to $300
...

Delta Vacations gives you the benefits and flexibility to truly own your vacation experience with packages inspired by hundreds of destinations, thousands of accommodations and endless activities.
Benefits of booking with Delta Vacations:
Enjoy savings when you package your flights, hotels, car rentals and more to any of our 300+ destinations worldwide.
Relax and book your dream getaway with ease, knowing you're getting the best price with
...
Multiple itineraries available